Covid-19: Front-line worker lost mother treated in same ward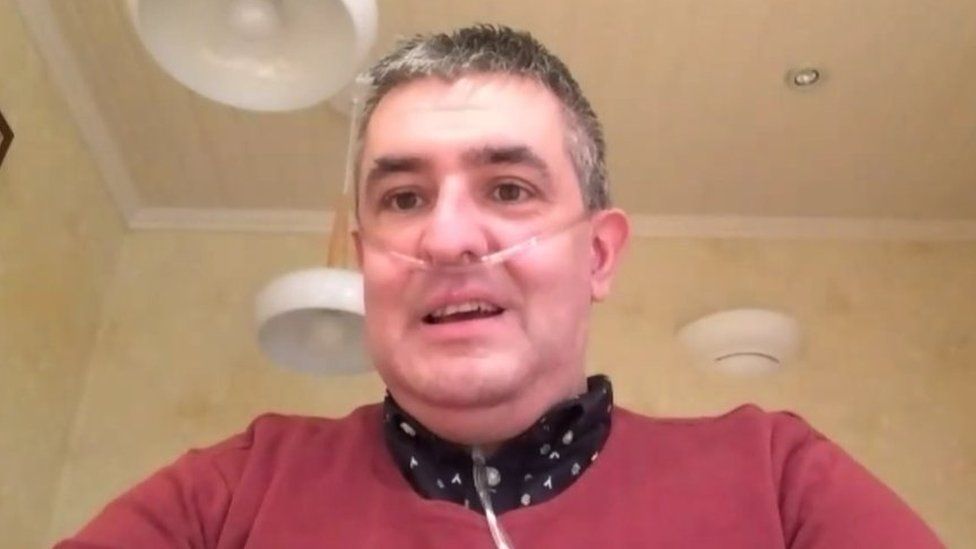 "I took her hand and told her we loved her and within about 10 minutes, she passed away peacefully."
When Jonathan Newell's mother Martina died with Covid-19 last year, fate kept them together - they were both treated for the virus on
the same ward where he worked as a front-line worker.
From March 2020, when the pandemic took hold, Jonathan had volunteered to work on the respiratory ward at Antrim Area Hospital.
In October, the 45-year-old, his parents and sister all contracted the virus.
Jonathan was admitted by ambulance to hospital on 19 October.
'I couldn't walk'
"I remember seeing someone standing at the bottom of the bed, and he said to me, 'Would I be able to make it to the ambulance?',"
he recalled.
"And at this stage, I just thought, I don't even know if I can get out of bed.
"I made it in stages and I had to come down the stairs on my bottom. I couldn't walk."
Over the next 24 hours, his mother was admitted to Antrim Area Hospital, followed by his father and sister, all suffering from Covid-19.
While his father and sister were discharged within 10 days, Jonathan was intubated for a week, and his 68-year-old mother Martina 
was treated in the ICU at the same time as him.
Beds side-by-side
The nurses arranged a video call between their beds after Jonathan was extubated. But he has no memory of that.
Their beds were moved side-by-side before Martina was discharged to the respiratory ward. A collapsed lung and a chest drain meant
it was a couple of days later before Jonathan could follow suit.
The following Saturday morning, nurses told Jonathan his mother "wasn't so well", and he travelled several beds up the ward to see
her again.
"At this stage, mum was still awake, she was still able to speak to us," he said.
"I spent about an hour with her, then I got very tired and went to go back and have a wee rest."
Ten minutes later, he heard the nurses on the other side of the curtain saying they thought he should be brought back down.

Follow many more news here. : feelingsgood